Vision
To be the premier body in education research and evaluation in Sri Lanka and a key enabler for education and evaluation.
Mission
To promote research and evaluation of education and testing its achievements, through taking the leadership and guiding other institutions and interest groups engaged in the field , thus enabling research and evaluation to be an integral part of all activities initiated and conducted for educational development.
Director's Profile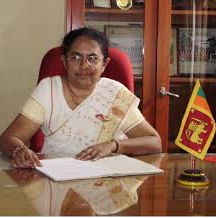 Professor Marie Perera joined the Department of Humanities Education of the Faculty of Education University of Colombo on 1st September 1995 as a Probationary Lecturer. She was promoted as a senior Lecturer Grade 11 in 2001 and Professor in Humanities Education in 2007.
During Professor Perera's tenure in the University of Colombo, she was appointed to various Academic as well as Administrative positions. She has served as Head of the Department of Humanities Education for more than seven years, Director, Staff Development Centre of the University of Colombo and Dean of the Faculty of Education. She served as the Course coordinator of the MPhil /PhD programme of the Faculty of Education and the Grant Coordinator of the HETC/QIG W3 programme of the Faculty of Education. Read More…